Cite this article as: Johnson C, Han YY, Nathan H, McCarra J, Alpini G, Meng F. Interleukin-6 and its receptor, key players in hepatobiliary inflammation and cancer. Transl Gastrointest Cancer 2012;1:58-70. DOI: 10.3978/j.issn.2224-4778.2011.11.02
Review Article
Interleukin-6 and its receptor, key players in hepatobiliary inflammation and cancer
---
Abstract
In recent years, the relationship between interleukin-6 (IL-6), hepatobiliary inflammation, and cancer has been studied. It is becoming clear that this cytokine plays an important role in the pathogenesis of both cholangiocarcinoma (CCA, cancer of the bile ducts) and hepatocellular carcinoma (HCC, cancer arising from the liver parenchyma). Inflammation due to various chronic hepatobiliary diseases including hepatitis B, hepatitis C, alcoholic liver injury, and primary sclerosing cholangitis (PSC) has been associated with increased levels of IL-6 and with increased rates of malignancy. In this review, we will summarize the current knowledge linking inflammation to hepatobiliary cancer, and discuss the key role of IL-6 and its signaling pathways in mediating this link. We will first review the major signaling pathways that are triggered when IL-6 engages its receptor. These include PI3 kinase, JAK/STAT, p38 MAP kinase and others that ultimately lead to cell proliferation, protection from apoptosis and increased metastatic potential. We will then discuss data linking IL-6 and hepatobiliary cancer, namely HCC and CCA.
Key words
Hepatobiliary cancer; hepatocellular carcinoma; interleukin-6; cholangiocarcinoma; hepatobiliary inflammation
Transl Gastrointest Cancer 2012;1:58-70. DOI: 10.3978/j.issn.2224-4778.2011.11.02
---
Introduction
Cell sur vival signaling plays an important role in the pathogenesis of cancer. Dysregulation of cell survival signaling is critical for tumor growth and progression for many reasons. First, aberrant cell survival mechanisms allow cells that harbor activated oncogenes or are genetically unstable to resist cell death, and thus allow progressively aggressive clones to arise. Furthermore, such mechanisms allow survival in a nonadherent state and thereby permit metastases. In addition, these mechanisms contribute to tumor cell resistance to hypoxia, immune surveillance, chemotherapy, radiation therapy, growth factor deprivation and other selective environmental pressures. Knowledge of the mechanisms of cell survival signaling is thus essential for understanding the pathogenesis of cancer, and for developing effective therapeutic strategies.
The inflammatory cytokine, IL-6, is a multifunctional cytokine that plays a major role in the response of hepatic epithelia to inflammation (1). IL-6 has been implicated as an autocrine promoter of cancer growth for several human cancers such as CCAs (biliary tract epithelial cancers), multiple myeloma and prostate cancer (2,3). Knowledge of IL-6 survival signaling in cancers is essential for the development of effective therapeutic strategies. Inhibition of apoptosis is a wellcharacterized mechanism of cell survival. Most studies of IL-6 signaling in hepatic and other epithelia have focused on either proliferation or acute phase protein production as end-points, and the pathways involved in these have been well characterized (3,4). In contrast, there is a paucity of information regarding intracellular mechanisms involved in mediating the survival or anti-apoptotic effects of IL-6. Many different pathways are known to be activated by IL-6, including the JAK-STAT pathway, the p38 MAPK pathway, the ERK pathway and the PI3 –kinase pathway (5). The role of these pathways in IL-6 mediated survival signaling is outlined in detail below.
---
IL-6 activates several pathways involved in survival signaling
PI3 kinase signaling
One major pathway believed to play a pivotal role in human cancer progression is the phosphatidylinositol 3-kinase (PI3K)/ Akt pathway (6). Activation of Akt by cytokine treatment is generally mediated by phosphotidylinositol-3 kinase (PI-3 kinase), a ubiquitous heterodimeric lipid kinase composed of a p85 regulatory and p110 catalytic subunit (7). IL-6 binding and receptor activation generally occurs by recruitment of PI-3 kinase to the plasma membrane where it catalyzes the conversion of membrane phosphoinositide 4,5-bisphosphate (PIP2) in the D3 position to generate phosphoinositide 3,4,5-trisphosphate (PIP3). The accumulation of PIP3 creates docking sites for Akt at the plasma membrane, which binds to PIP3 via its pleckstrin homology domain. Another kinase that is recruited to the plasma membrane by the same phospholipids is PDK-1, a kinase that phosphorylates Akt at Thr308 (8). Full activation of Akt requires its phosphorylation at a second site, Ser473. How Akt is phosphorylated at Ser473 is less clear but is commonly assumed to be a consequence of Thr308 phosphorylation. Once phosphorylated, the inactivation of Akt is believed to occur via dephosphorylation by protein phosphatase 2A (9).
IL-6 intracellular signaling involves a complex network of different pathways. Among them, it has been shown that, in cancer cell lines, PI3K/Akt has an important role. In human cervical neoplasms IL-6 regulates the expression of the antiapoptotic protein Mcl-1 via a PI3K/Akt-dependent pathway and facilitates oncogenesis of human cervical cancer by inhibiting cellular apoptosis. IL-6-induced activation of the PI3K/Akt pathway is involved in protection against apoptosis, as well as in enhanced proliferation of multiple myeloma cells (10-12). Moreover, in human Hep3B hepatoma cells IL-6 leads to activation of the PI3K/Akt pathway necessary for the antiapoptotic effect of IL-6 during transforming growth factor-β treatment (13). It should be noted, however, that PI3K activation upon IL-6 treatment is observed in a cell-type specific manner; e.g. no significant Akt activation could be observed in IL-6- treated HepG2 hepatoma cells (14). The molecular mechanism linking gp130 engagement to the activation of the PI3K/Akt pathway is not well understood. After IL-6 stimulation the adaptor protein Gab1 interacts with PI3K (15). Similarly, PI3K associates with the IRS-1 (insulin receptor substrate-1) adaptor in response to OSM (16), suggesting that both IRS-1 and Gab1 may couple gp130 to PI3K activation.
PI3K/Akt pathway is also activated by the low-molecularweight GTP/GDP binding GTPase Ras, which is found oncogenically mutated in 30% of all human cancers (17). The ability of IL-6 dependent Ras/PI3K/Akt pathway to induce uncontrolled deregulated proliferation and tumor survival in human cancer cells may depend not only on activating genes that stimulate cellular proliferation and survival but also on antagonizing those genes that suppress proliferation and/ or induce apoptosis (18). Indeed, recent studies document the importance of IL-6-dependent activation of PI3K/Akt as it promotes proliferation (19), protects survival (12) and stimulates migration (20) of cancer cells.
JAK/STAT pathway signaling
IL-6 imparts its signal into the cell by forming a complex with IL-6R and gp130, a transmembrane glycoprotein, and phosphorylation of signal transducer and activator of transcription (STATs) by gp130-associated janus kinases (JAKs) (21,22). The JAK-STAT pathway is a signal transduction cascade initiated by the binding of a cytokine to its receptor. In many instances this involves the recruitment and interaction of non-receptor protein tyrosine kinases designated Janus kinases and STAT proteins (signal transducers and activators of transcription). Upon binding ligand, receptor-associated JAKs become activated and mediate phosphorylation of specific receptor tyrosine residues. This leads to the recruitment of specific STATs, which are then also tyrosine-phosphorylated. Activated STATs are released from the receptor, dimerize, translocate to the nucleus, and bind to members of the γ-activated site (GAS) family of enhancers.
STAT proteins are latent cytoplasmic transcription factors that are transiently recruited to activated cytokine receptors through their SH2 domains. STAT3 was first described as a DNAbinding factor from IL-6 stimulated hepatocytes, capable of selectively interacting with an enhancer element in the promoter of acute-phase genes, known as the acute-phase response element. Molecular definition of the factor demonstrated that the same protein, a close relative of STAT1, is activated by the entire family of IL-6 type cytokines, which signal through gp130 and related receptors. After IL-6 stimulation, STAT3 and STAT1 become phosphorylated, dimerize and translocate to the nucleus where they rapidly bind to DNA and trigger transcription of target genes. Normally, activation of STAT3 is rapid and transient and absent in astrocytes of unlesioned brain (23). Mutation of tyrosine-705 to phenylalanine (Y705F) inhibits IL-6-induced tyrosine phosphorylation of STAT3 (24). A constitutively active form of STAT3 (STAT3-C) that can dimerize in the absence of tyrosine phosphorylation is sufficient to induce cellular transformation of fibroblasts and tumor growth in nude mice (25). These findings suggest that IL-6 may promote tumor development by activating STAT3. On the other hand, a recent study showed that VEGF expression correlates with constitutive STAT3 activity in diverse cancer cell lines and that VEGF is regulated directly by activated STAT3 (26). Much more intriguing, for human cervical cancer it was demonstrated that IL-6 promotes tumor angiogenesis by activating VEGF via STAT3 (27). Therefore, IL-6 might promote tumor growth by facilitating neoangiogenesis.
p38 MAP kinase signaling
The p38 mitogen-activated protein kinase (p38-MAPK) pathway is one of several MAPKs pathways in a family which transduces signals from the cell membrane to the nucleus after responses to various stimuli (28). When stimulated, MAPKs phosphorylate their specific substrates at serine and/or threonine residues, which can either positively or negatively regulate the substrate and ultimately regulate the entire signaling pathway (29). The p38-MAPK family consists of four isotopes: p38-MAPKα, p38-MAPKb, p38-MAPKg, and p38-MAPKδ with p38-MAPKα being the most common (30). The p38 MAPK pathways are activated in response to various environmental and cellular stresses, inflammation and other signals (31). Recent studies have suggested a role for p38 MAPK in mediating pathways leading to cell apoptosis and growth inhibitory signals (32). However, other studies with malignant cells have shown that activation of p38-MAPK signaling pathways may produce just the opposite effect: anti-apoptotic and proliferative effects, and various cell survival pathways (28,33). These studies suggest that tumor cell growth might be regulated by coordination between cell proliferation and apoptosis. The inability of malignant cells to respond to p38 MAPK signaling towards apoptosis could possibly be due to alterations in regulators of apoptosis that provide a survival advantage to the cell (34).
P38-MAPK pathways are involved in multiple cancer cell lines. The recently identified MAPK-like protein kinase TOPK/ PBK gene represents a likely candidate IL-6 target gene as suggested by its significant up-regulated expression in hybridoma cells induced to grow by a brief IL-6 pulse (35). PBK/TOPK expression is increased in highly proliferative malignant cells and during normal fetal development (36). Transfection of the TOPK gene into COS-7 cells up-regulated phosphorylation of p38 MAPK. Gel precipitation indicated that TOPK protein can be associated with p38 in vitro (37). Studies also indicate that a recently discovered survival pathway, involved in H-500 rat Leydig cancer cells, is directly tied to the p38-MAPK pathway through mediation of CaR-induced proliferation. This growth leads to a higher calcium content, which ultimately leads to apoptosis prevention through cell survival pathways (38). Another such case involves survival pathways in 2F7 and 10C9 B Non-Hodgkin's lymphoma (NHL) cells. Inhibition of Interleukin 10 (IL-10) secretion was found to be mediated by the p38-MAPK signaling pathway. P38-MAPK pathways induced the transcription of IL-10 which through Bcl-2, led to drug resistance via protection from apoptosis (39).
Tumor cells secrete IL-6 in response to inflammatory cytokines such as tumor necrosis factor a (TNF-a) and IL-1b. IL-6 secretion resulted in proliferation of malignant cholangiocytes. It was further shown that the interaction of IL-6 with its receptor complex triggered the activation of MAPK pathways involved in cell proliferation. Several lines of evidence support a critical role of p38 MAPK signaling in IL-6 mediated signaling during growth of human tumors. IL-6 stimulation activates the p38 MAPK in malignant cholangiocytes, but not in non-malignant cholangiocytes (34,40). Furthermore, inhibition of p38 MAPK signaling in malignant cholangiocytes reduces anchorage independent growth in vitro and decreases xenograft growth in immunodeficient mice (41,42). In addition, p38 MAPK signaling activates a dominant cell survival pathway in response to dsRNA, a potent inducer of IL-6 expression in malignant cholangiocytes (43). More recent studies have examined the possibility of inhibiting p38-MAPK pathways and its potential role in adjunct therapy for cancer cell lines, or eventually for the chemoprevention of malignant cancer cells by reducing cell survival, and increasing the susceptibility of cancer cells to apoptosis via chemotherapeutic agents.
Others
c-Jun NH2-terminal kinase (JNK) constitutes one of the four mammalian mitogen-activated protein kinase families: ERK, JNK, p38 kinase, and ERK5/big mitogen-activated protein kinase 1. JNK is activated in response to various stimuli and agents, including IL-6, translocates to the nucleus, and mediates the phosphorylation and activation of transcription factors, including c-Jun (44). Activated c-Jun participates in activator protein-1 (AP-1) formation. JNK, as well as AP-1, contributes to the regulation of cell proliferation and apoptosis during various physiological and pathological events, including tumor development (45). JNK2 has been shown to be involved in cell proliferation and survival in androgen-independent prostate cancer PC-3 cells (46). IL-6 is produced by adipocytes and plays a role in androgen-independent prostate cancer cell growth. Interestingly, serum IL-6 levels are remarkably elevated in patients with clinically evident hormone-resistant prostate cancer as compared with those with hormone-dependent cancer (47). Consistent with the clinical result, IL-6 is secreted by androgen-independent prostate cancer cells but not by androgen-dependent LNCaP cells (48,49). Thus, autocrine as well as exogenous IL-6 can promote androgen-independent prostate cancer cell growth.
---
Downstream target molecules involved in cell survival by IL-6
IL-6 can lead to the activation of yet an additional signaling cascade involving PKB/Akt. Autocrine growth stimulation and/or apoptosis inhibition via PI3K/AKT activation have been suggested as the possible mechanisms for the oncogenic action of IL-6 (50-52). Activated AKT phosphorylates TSC2, thereby rendering TSC1/TSC2 complex unstable and inactive. Rheb, a small G protein, is no longer inhibited by the GTPase activating protein (GAP) activity of TSC2 (53,54). TSC1 and TSC2 are tumor suppressors, which are often mutated in tuberous sclerosis, a condition characterized by the emergence of multi-systemic benign tumors (55,56). Rheb leads to activation of mTOR through an unknown mechanism (57,58). mTOR is a member of the phosphatidylinositol kinase-related protein kinase (PIKK) family. Activation of mTOR leads to the phosphorylation of eukaryotic initiation factor 4E-binding protein-1 (4E-BP1), dissociating 4E-BP1 from the mRNA cap binding protein eIF4E to promote protein synthesis (59). mTOR also affects the activity of the ribosomal protein S6 kinase (p70S6K) and subsequent phosphorylation of S6 ribosomal protein to stimulate protein translation, and p70S6K has been shown to be required for cancer cell survival (60).
Over the years, studies have focused on the transcriptional regulation of oncogenesis. More recently, a growing emphasis has been placed on translational control (61). eIF-4E is a rate-limiting translation initiation factor that binds to the cap structure at the 5'-end of mRNAs of eukaryotic mRNAs as a component of the cap-binding complex eIF-4F that mediates the recruitment of ribosomes to mRNA. IL-6 rapidly phosphorylates the translation initiation factor eukaryotic initiation factor-4E and triggers anti-apoptotic responses in cholangiocarcinoma cells. Reduction of cellular eukaryotic initiation factor-4E by RNA interference decreases IL-6-induced effects on cytotoxic drug-induced caspase activation and apoptosis (62). Alterations in initiation will result in altered distribution of rRNA between monosome and polysome-associated fractions. Abundant evidence implicates translational dysregulation in promoting tumor growth. Aberrant expression of translationally regulated apoptosis regulatory genes could promote cell survival under otherwise detrimental environmental conditions. This could result in the survival of cells with inheritable genetic defects that may have otherwise caused cell death. eIF4E is indeed overexpressed in many solid tumors and tumor cell lines. The list includes cancers of the colon, breast, bladder, lung, prostate, gastrointestinal tract, head and neck, Hodgkin's lymphomas and neuroblastomas (63-69). Modulation of eIF-4E decreases tumor cell growth (70).
Substrates of Akt also include the forkhead transcription factor FKHR and Bad (Bcl-2/Bcl-XL-antagonist, causing cell death), whose phosphorylation is associated with increased survival or cell growth. gp130 conveys signals through this pathway, which lead to prevention of doxorubicin-induced apoptosis (71). Also, in basal cell carcinoma cells the PI3K pathway is crucially involved in the IL-6-mediated prevention of apoptosis that coincides with the up-regulation of the antiapoptotic protein Mcl-1 (72). Mcl-1 was also shown to be upregulated in cholangiocarcinoma cell lines via an IL-6/Jak/ Stat-dependent mechanism (73). Mcl-1 is a member of the BCL-2 protein family, the best characterized protein family involved in the regulation of apoptotic cell death. The anti-apoptotic members of this family, such as Bcl-2 and Bcl-XL, prevent apoptosis by sequestering proforms of death-driving cysteine proteases called caspases (a complex called the apoptosome) or by preventing the release of mitochondrial apoptogenic factors such as cytochrome C and apoptosis-inducing factor (AIF) into the cytoplasm. After entering the cytoplasm, cytochrome C and AIF directly activate caspases that cleave a set of cellular proteins to cause apoptotic changes. Thus, the Bcl-2 family of proteins acts as a critical life-death decision point within the common pathway of apoptosis. A number of studies have recently shown that the anti-apoptotic properties of IL-6 in cancer cells were associated with the expression of the Bcl-2 family proteins (74). The upregulation of the Bcl-xL protein was detected in human myeloma cell lines and patients' myeloma cells at relapse and that serum IL-6 levels tended to rise upon disease progression (75).
---
Other mechanisms by which IL-6 contributes to chemoresistance
Chemotherapy has been one of the most effective and widely used means of treating cancer. A major limitation in chemotherapy for cancer is multidrug resistance (MDR), an innate or acquired phenotype, which allows cancer cells to resist a broad spectrum of chemotherapeutic, drugs. One of the most extensively studied and clinically relevant mechanisms of drug resistance is the overexpression by cancer cells of the transmembrane multidrug transporter P-glycoprotein (P-gp) (76). P-gp is encoded by the multidrug resistance 1 gene (mdr1) and is believed to mediate multidrug resistance by reducing the intracellular accumulation of cytotoxic drugs and compounds. Many types of cancers express high levels of mdr1 and are known to be unresponsive to chemotherapy (77-79). In fact, P-gp expression has been considered to be a predictive factor of poor response to chemotherapy and overall survival (80-82). Increasing evidence has shown that mdr1 polymorphism is associated with functional alterations of P-gp activity and by this mechanism may interfere with efficacy or toxicity of anti-cancer treatment (82).
Human cancer cells selected for multidrug resistance to common chemotherapeutic agents demonstrate increased expression of IL-6 (83). The development of multidrug resistance, however, has posed major barriers limiting the efficacy of chemotherapy and hence cancer treatment (84). The expression of IL-6 in drug-sensitive breast cancer cells induces mdr1 gene expression and, in correlation, increases the resistance of the cells to doxorubicin treatment. IL-6 is expressed and secreted by multidrug-resistant breast cancer cells, whereas no IL-6 gene expression is found in the parental drugsensitive cells (85). Despite the expression of a large number of genes selectively expressed in multidrug-resistant cells, only a few of these genes have been shown to increase resistance to chemotherapeutic drugs (86). The expression of IL-6 in non- IL-6-producing breast tumor cells induces drug resistance, indicating that the production of IL-6 protects the cells from cytotoxic agents. The induction of mdr1 gene expression is a potential mechanism by which IL-6 provides drug protection. Other studies have shown that inhibition of IL-6 secretion in prostate cancer cell lines increases the sensitivity of these cells to anticancer drugs (87). Thus, some tumor cells may acquire the ability to express and produce IL-6 as a protective mechanism against drug-induced death.
---
IL-6, inflammation and hepatobiliary cancer
The relationship between chronic inflammation and cancer has been well established (88). It was Virchow who first proposed this link in 1863 (89), and recent epidemiologic studies have proven him to be correct for many types of cancer. It is estimated that 15% of human cancers are associated with chronic infections (90,91). Some well-known associations of this kind are gastric cancer with H. pylori infection, colorectal cancer with inflammatory bowel disease, and bladder cancer with schistosomiasis. Chronic inflammation plays an important etiological role in hepatobiliary cancer as well. Rates of hepatocellular carcinoma (HCC) are significantly increased by chronic viral hepatitis, and cholangiocarcinoma (CCA) is associated with primary sclerosing cholangitis, a chronic inflammatory disorder. A better understanding of the mechanisms underlying these relationships will likely lead to new and better treatment options for these malignancies. Given that HCC and CCA are among the deadliest of human cancers and often refractory to current chemotherapy regimens, it will be important to further elucidate the molecular mechanisms underlying carcinogenesis so that more targeted therapies can be developed. IL-6 has been known for many years as an important pro-inflammatory cytokine produced by the liver during the acute phase response. However, recently the role of IL-6 in promoting various human cancers has been discovered. Here we will focus on recent advances in our understanding of the role of IL-6 in promoting HCC and CCA.
---
IL-6 and hepatocellular carcinoma
Early studies in rats provided the first clue that IL-6 may be important in the pathogenesis of HCC. It was shown that a highly metastatic cell line derived from rat HCC produced much higher levels of IL-6 than poorly metastatic cells derived from the same tumor (92). In addition, when the poorly metastatic cells were engineered to overexpress IL-6 using a retroviral vector, they gained the ability to metastasize, particularly to the abdominal wall (93). The authors of these studies concluded that IL-6 is critical for HCC cells to gain the ability to spread beyond the liver. It has been known for some time that, in humans, IL-6 levels are increased in serum from patients with chronic liver disease including cirrhosis and HCC (94,95). However, IL-6 levels are significantly higher in HCC patients when compared to cirrhotic patients who do not have cancer (96). Interestingly, this was associated in one study with a single nucleotide polymorphism (SNP) in the promoter region of the IL-6 gene at the -174 position. The G allele at this position was associated with higher levels of IL-6 only in HCC patients, not in cirrhotics. Other studies have shown that levels of IL-6 are correlated with the size of the tumor in HCC (97). Furthermore, higher IL-6 levels have been associated with progression from chronic viral hepatitis to HCC. In one study of chronic hepatitis C patients, IL-6 was shown to be an independent risk factor for development of HCC (98). Interestingly, this correlation only held true for female patients. The relationship between gender, IL-6 and HCC will be discussed in more detail later in this review. In another study of patients with chronic hepatitis B, a serum IL-6 concentration above 7 pg/mL was associated with progression to HCC. The positive and negative predictive values at this cutoff were 72% and 71%, respectively (99). These studies have led some to the hypothesis that IL-6 may be useful as a prognostic marker for HCC, however not all studies thus far have supported this notion (100).
Another line of evidence linking IL-6 to HCC comes from studies showing aberrant IL-6 signaling in HCC cells. As outlined in detail above, IL-6 signals through several different well-characterized pathways involved in cell proliferation and survival. Multiple studies have linked both positive and negative regulators in these pathways to the pathogenesis of HCC. For example, the suppressor of cytokine signaling (SOCS) -1 and -3 genes are well known negative regulators of IL-6 signaling that act as inhibitors of the JAK/STAT pathway (101). Yang et al. have shown that hypermethylation of the SOCS-1 promoter is associated with HCC (102). Among nine tumor suppressor genes examined, SOCS-1 was the gene found to be most frequently hypermethylated in a sample of tumors from 51 HCC patients. Sixty-five percent (33/51) of these tumors were found to contain SOCS-1 promoter hypermethylation. In addition, SOCS-1 was one of three tumor suppressor genes shown to be preferentially methylated in HCC versus cirrhotic patients without HCC. SOCS-1 promoter methylation was also found to be more prevalent among HCC patients who were hepatitis C virus (HCV)-positive than those who were HCVnegative. Interestingly, other studies have suggested that HCV itself causes down-regulation of the SOCS-1 gene through the HCV core protein via a mechanism independent of promoter methylation (103). Other potential mechanisms linking chronic hepatitis C to HCC have been reviewed elsewhere (104). Recent studies have suggested a similar relationship exists between SOCS-3 and HCC. In a rat model of chemically-induced HCC, STAT-3 activity was found to be increased (105). Using a hepatocyte-specific Socs3 knockout mouse model, Riehle et al. demonstrated that STAT-3 and ERK-1/2 phosphorylation were increased in response to IL-6 stimulation following partial hepatectomy. This correlated with increased hepatocyte proliferation and development of HCC in response to a chemical carcinogen (106). Another study using these hepatocytespecific Stat3 knockout mice showed that STAT-3 target genes including Bcl-XL, Bcl-2 and cyclin-D were produced at higher levels and that hepatocytes from these mice displayed increased resistance to apoptosis (107). This study also demonstrated that in humans, HCC tissue expressed significantly higher levels of SOCS-3 than surrounding normal liver tissue. Another negative regulator of JAK/STAT signaling, SHP-2, has also been shown to act as a tumor suppressor in HCC, further implicating the IL-6 and JAK/STAT pathway in promotion of this disease (108). Other signaling pathways downstream of IL-6 have also been linked with HCC. Recent studies have implicated JNK (109) and c-Jun (110) in promotion of HCC, further highlighting the importance of IL-6 signaling in this disease process. Mutations in the IL-6 receptor, gp130, have also been identified which appear to predispose to HCC. Sixty percent of inflammatory hepatocellular adenomas have gp130 mutations that result in constitutive activation of IL-6 signaling (111). A subset of these tumors with wild-type gp130 has been shown to harbor STAT-3 mutations in the SH2 domain that produce the same effect independent of IL-6 and gp130. Although inflammatory hepatocellular adenomas are benign liver tumors, combination of the above gp130 or STAT-3 mutations with other oncogenic mutations, such as β-catenin, lead to development of HCC (112).
There has been some interesting progress recently on the role of gender and obesity in HCC and the possible role of IL-6 in these relationships. It has been well established that HCC occurs more frequently in men than women, and epidemiologic studies have suggested that this may be due to the protective effects of estrogens. However, the mechanistic explanation for this has been unclear. A recent study by Naugler et al. has suggested a potential role for IL-6 (113). The authors showed that male mice produce greater amounts of IL-6 in response to the chemical carcinogen diethylnitrosamine (DEN), and that the IL-6 gene is required for the gender disparity in HCC rates. Furthermore, they showed that this disparity is also dependent on MyD88, an adaptor protein required for Toll-like receptor signaling which is known to activate IL-6 gene expression. A subsequent study also showed that, in female mice, estrogen acts to suppress IL-6 production by Kupffer cells and this correlates with decreased rates of HCC development (114). In recent years evidence has accumulated that links obesity to different inflammatory diseases and cancer (115,116). HCC is among the cancers for which there is substantial evidence implicating obesity as a risk factor (117). However, the mechanisms underlying this relationship are largely unknown. Recent studies have shed some light on this issue. For over a decade, it has been known that IL-6 levels are increased in overweight and obese patients, and the level of serum IL-6 correlates with BMI (118). Furthermore, it has been shown that weight loss leads to a decrease in IL-6 levels in obese women. More direct evidence of a link between IL-6, obesity and HCC was provided by Park et al. who demonstrated that, in mice, obesity induced by a high-fat diet potentiates the development of HCC in response to DEN treatment (119). However, IL-6-/- mice fed a high fat diet and then treated with DEN did not develop HCC any faster than those fed a low-fat diet. The authors concluded that IL-6 is required for obesity to increase the risk of HCC in mice.
---
IL-6 and cholangiocarcinoma
Cholangiocarcinoma, or cancer of the bile ducts, is the second most common type of primary hepatobiliary cancer next to HCC. Like HCC, CCA has several well-established associations with infectious and non-infectious chronic inflammatory conditions. Risk factors for CCA include primary sclerosing cholangitis, long-standing intraductal gallstone disease, and infestation with the liver fluke parasites Clonorchis sinensis and Opisthorchis viverrini (120). The molecular mechanisms underlying CCA pathogenesis are much less well understood than those for HCC, but data are emerging suggesting a critical role for proinflammatory signaling, particularly IL-6 and its associated pathways. Similar to HCC, increased levels of IL-6 have been demonstrated in serum from CCA patients. IL-6 levels in one study were not only elevated in CCA patients compared to healthy controls, but they were elevated to a greater extent in CCA than in HCC or colorectal cancer patients (121). In addition, serum IL-6 levels correlated with tumor burden and were significantly decreased two weeks after surgical resection of CCA. Other studies have evaluated the potential for IL-6 as a diagnostic and prognostic tool in CCA. Tangkijvanich et al. showed that detectable levels of IL-6 (0.18 ng/mL) were able to distinguish between CCA and benign biliary disease with a sensitivity and specificity of 71.1% and 90%, respectively (122). The authors propose that IL-6 in combination with CA-19-9, a conventional tumor marker for CCA, may provide superior diagnostic accuracy and sensitivity. It should be noted that this study was performed using patients from Thailand where CCA is particularly prevalent, presumably due to high rates of Opisthorchis viverrini infestation. Another study performed in Korea showed that IL-6, at a cut-off value of 0.25 ng/ml, provides a sensitivity and specificity of 73% and 92%, respectively. This study also examined the effect of photodynamic therapy (PDT) on levels of IL-6. PDT is an emerging treatment for CCA in which an intravenous photosensitizer is administered followed by illumination at the appropriate wavelength. This treatment leads to an apoptotic and anti-angiogenic response (123). Interestingly, in CCA patients following PDT, IL-6 serum levels dropped approximately 7-fold, again suggesting an important relationship between IL-6 and CCA (124).
Recently studies have begun to link aberrations in IL-6 signaling to the development of CCA. The earliest clues came from studies showing that IL-6 functions as an autocrine growth factor in CCA cell lines and that this effect was dependent on p38 and p44/p42 MAPK signaling (40,125). Subsequently, IL-6 was shown to mediate cell survival in CCA cell lines via increased telomerase activity as well as upregulation of Mcl-1 and glucocorticoid kinase (2,126,127). Furthermore, studies have demonstrated that IL-6 promotes cholangiocyte proliferation through epigenetic mechanisms. Methylation of the Egfr and Socs-3 genes has been shown to be dependent on IL-6 in malignant human cholangiocytes (128,129). Additionally, micro RNA's (miRNA) have recently been implicated in IL-6 mediated cancer signaling. miRNA's are small non-coding RNA molecules that have recently been implicated in the pathogenesis of many different types of cancer (130). miR-370 was identified as a miRNA that is downregulated in response to IL-6 overexpression in malignant human cholangiocytes (131). miR-370 was also shown to specifically target MAP3K8, an important proliferative signaling molecule. This effect was found to be dependent on DNA methylation and coincide with increased expression of DNA methyltransferase enzyme-1 (DNMT-1). Other miRNA molecules have also been implicated in IL-6-mediated oncogenesis. Braconi et al. recently showed that two miRNA's that are downregulated by IL-6, miR-148a and miR-152, specifically target DNMT-1 (132). Furthermore, overexpression of miR-148a and miR-152 correlates with increased expression of the tumor suppressor genes, Rassf1a and p16INK4a, and with reduced proliferation of a CCA cell line.
---
Future directions
Primary hepatobiliary cancers are among the deadliest of human cancers and we are in desperate need of new and better therapies for these diseases. It will be important to further characterize the mechanisms underlying carcinogenesis of both HCC and CC in order to develop more targeted therapeutics. Here we have outlined the main signaling pathways that are thought to link IL-6 to hepatobiliary cancer and highlighted some of the recent work implicating chronic inflammation and the pleiotropic cytokine IL-6, in the pathogenesis of HCC and CC (Figure 1). Current and future work on IL-6- based therapeutics provides hope for better outcomes in patients suffering from these diseases.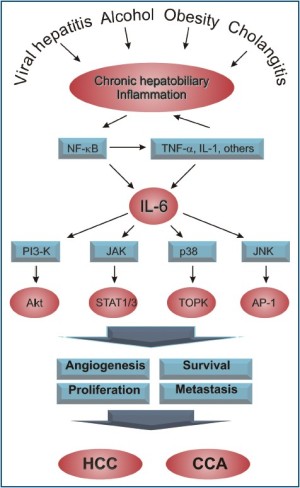 Figure 1. Schematic representing the proposed role of IL-6 in hepatobiliary carcinogenesis. Abbreviations: NF-κB – Nuclear factor kappa B. TNF-α – Tumor necrosis factor alpha. IL-1 – interleukin-1. IL-6 – interleukin-6. PI3-K – Phosphatidyl inositol-3-kinase. JAK – Janusactivated kinase. JNK – c-Jun N-terminal kinase. TOPK - T-LAK Cell-Originated Protein Kinase. AP-1 – Activator protein 1. HCC – Hepatocellular carcinoma. CCA – cholangiocarcinoma.
---
Acknowledgements
The project was supported by NIH R01 grant 5R01DK054811, Scott & White Research Grants Program Projects # 100451 & # 90190 and VA merit award to G Alpini and F Meng.
---
References